Hire a Node.js Developer in the Philippines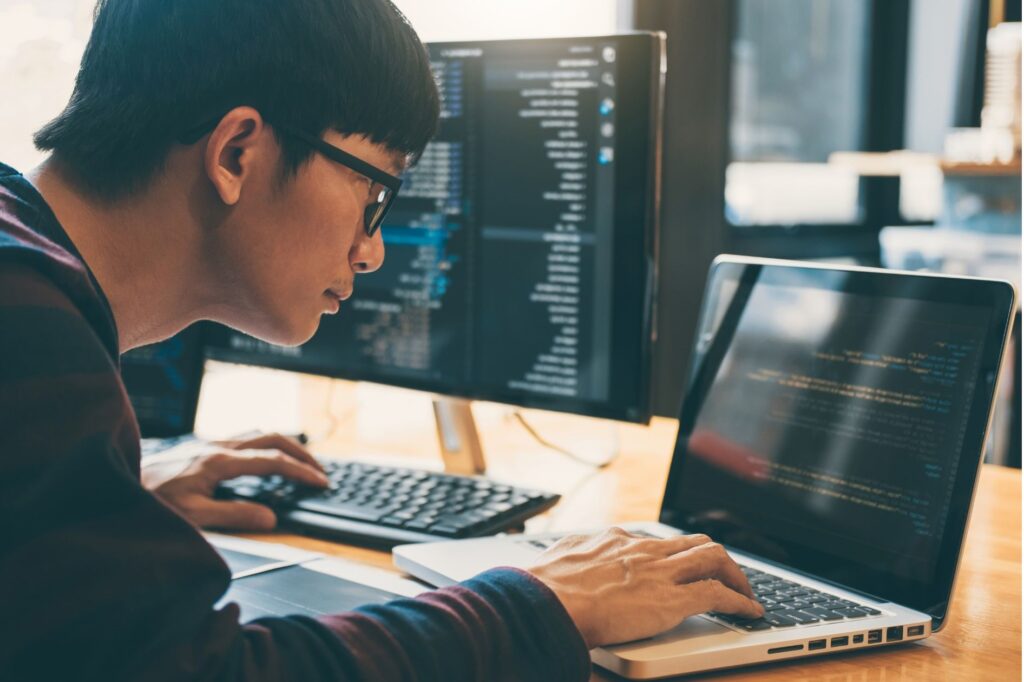 Node.js Development Outsourcing
A Node.js developer is responsible for writing server-side web application logic in JavaScript, using the Node.js runtime environment. They develop back-end components, connect applications with other web services, and support front-end developers by integrating their work with the Node.js application, thus ensuring smooth, efficient web operations.
Hiring a Node.js developer is vital for businesses seeking to create fast, scalable network applications. These experts can handle concurrent requests efficiently, improving app performance.
---
Hire Dedicated Offshore Node.js Developers and save up to 75% compared to hiring locally
Contact us to learn about our transparent fixed monthly rates with no long term contracts.
---
The expertise of Node.js developers fills the need for real-time web applications, single-page applications, and data-intensive real-time applications that run across distributed devices.
Why Outsource Node.js Developers To The Philippines?
Outsourcing Node.js developers offshore provides significant cost savings and access to the top 1% of talent in your industry. It offers scalability, enabling you to adjust your team size based on project needs.
Offshore developers can work around your schedule for round-the-clock service, reducing time-to-market with fast, efficient product deployment. The key to successful outsourcing is choosing a partner that understands your business and delivers quality.
Benefits Of Hiring Offshore Node.js Developers in the Philippines
When it comes to hiring full-time remote Node.js developers, the Philippines emerges as an attractive destination. For industries that rely heavily on real-time applications like fintech or e-commerce, Filipino developers bring value with their expertise in Node.js, ensuring fast and efficient development of scalable applications.
Their proficiency in English facilitates seamless communication, a crucial aspect in agile development environments. Cost-effectiveness is another advantage, allowing businesses to get high-quality services at lower rates.
With flexible working hours, outsourced Node.js developers in the Philippines can work in your timezone or off-hours, critical for industries offering 24/7 technical support and service.
Build a remote Node.js developer team in the Philippines with Outsourced
Outsourced offers an efficient solution to hiring top Node.js developers in the Philippines. We leverage our extensive talent network and local expertise to find, vet, and onboard highly skilled Node.js professionals for your business.
With Outsourced, you can initially hire an individual Node.js developer and later scale up to a full team, aligning with your business growth and evolving needs.
Our offshore Node.js developers can cater to a wide range of industries and roles. Here's how they can contribute:
Fintech: Building secure, real-time financial applications.
E-commerce: Developing scalable online shopping platforms.
EdTech: Creating interactive educational software.
Healthcare: Streamlining patient data management systems.
Start-ups: Rapidly deploying MVPs for new business ideas.
Gaming: Crafting high-performance multiplayer games.
…and many others!
Contact Outsourced Today
Ready to boost your team with top Node.js talent from the Philippines? Contact Outsourced today to learn how to get started on your hiring journey!