How it works
With outsourced you can scale your organisation quickly, easily and cost effectively with dedicated remote staff in the Philippines.

You provide us
with a job description
(Just tell us what you need)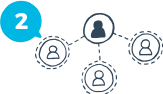 We recruit
talented professionals
(Only the best. Quality assured)

Your dedicated staff
report to you daily
(Full time remote or office-based)

We manage
the operations
(and ensure quality standards)
The outsourcing
destination of choice
The Philippines was named three times as the Offshoring Destination
of the Year by the UK body of National Outsourcing Association.
Mike Larcher
Founder & CEO
Your Outsourced team in the Philippines
Our goal is to find and place exceptional remote staff that will stay with you for years to come and who will constantly exceed your expectations.
Outsourced delivers exceptional offshore staffing solutions and provides you with remote staff of the highest standards.
Our spacious open plan offices are supported by advanced network infrastructure and the best technology and equipment.
Outsourced is ISO Certified and delivers the highest quality offshoring and Business Process Outsourcing (BPO Philippines) solutions.
Offshore staffing roles
Our Philippines offshore staffing covers ten key industries including;
Information Technology (I.T.), Contact Center, Professional Services, Creative, Administration, Marketing, Education, Finance, Healthcare and Engineering.