full time dedicated staff
With Outsourced you can scale your organisation quickly, easily and cost effectively with dedicated remote staff. Your full time offshore staff report directly to you every business day from our offices in Manila.
They work during your business hours and are effectively an extension of your local team (just located remotely). You have direct access to your staff (phone/skype/email) and you define the standards by which they work and the systems and processes they should follow.
To get started our "offshore staff leasing"
process is simple. You simply provide us with a job description and we either provide available staff from our existing talented team or we start the recruitment process based on your requirements.
"You have direct access to your staff"
We panel access, test the verify the quality of staff before placement with any client. We handle all the employment paperwork and provide all the best equipment and facilities. We provide ongoing HR and ensure high staff retention and quality assurance.
All Outsourced staff work daily from our fully serviced offices in Manila surrounded by like-minded industry best professionals, so they all have an internal network of talent to speak with to ensure efficiency and quality on delivery.
Outsourced has become a hub of the most talented professionals in the Philippines. You now have the exciting opportunity to hire them full time to work directly for your business.
simple process

You provide us
with a job description
(just tell us what you need)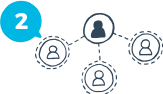 We recruit
talented professionals
(only the best. ISO quality assured)

Your dedicated staff
report to you daily
(full time from our offices in Manila)

We manage
the office operations
(and ensure quality standards)
benefits of outsourced philippines
Outsourced Philippines delivers exceptional offshore staffing solutions such as outsourced it services and provides you with staff of the highest standards.
Cost effective (save 75%)
Highest quality staff
Premium client services
ISO Quality Systems
ISO Information Security
Premium office facilities
Premium IT equipment
Transparent pricing
No lock-in contracts
Trustworthy provider
Scale quickly and easily
Fast recruitment process
Branded workspace
Staff wellness and happiness
Ethical staff treatment
Legal employment compliance/li>
Staff performance management
Full time onsite support
High staff retention (95%+)
Team collocation
Premium network infrastructure