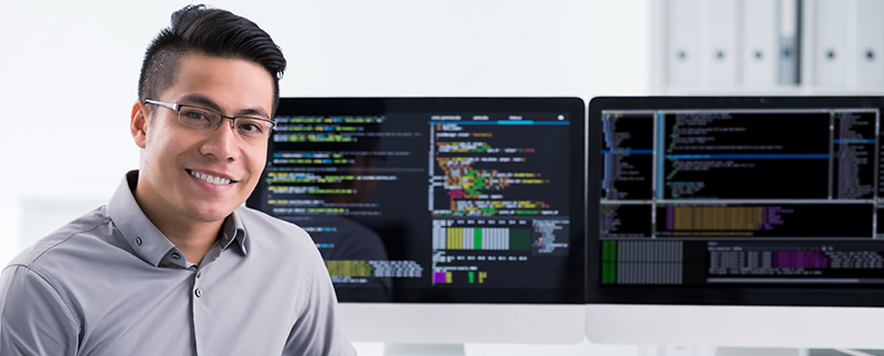 Outsourced allows you to hire a Dedicated Full Time Developer or remote development team in the Philippines. For example, you can hire a full time Python developer, Java developer or front-end or back-end developers.
We will recruit web developers from any speciality based on the job description you provide us, including Dedicated PHP Developers, Dedicated JavaScript Developers and Dedicated C/C++/C# Developers or developers with skills in any of the most popular programming languages.
Whatever your requirements we find and secure the best talent offshore in the Philippines.
With Outsourced you can also create an offshore development team consisting of lead developer, project manager, web programmers and quality assurance testers. It is our mission to constantly exceed the expectations of our clients and to deliver exceptional quality code and service.
Whether you hire one dedicated full time remote home-based developer or hire a team of office-based offshore developers you can be certain with Outsourced that you have selected a company that has quality assurance as its primary focus. You can also be certain that your dedicated remote staff are the best in the Philippines and that they will continue to deliver quality.
Why the Philippines is the best place to hire remote dedicated developers
Here are some of the most compelling reasons why you should hire dedicated developers from the Philippines to build your successful website, program or app:
Share this Image On Your Site
Fluent English Communication
The Philippines is the 7th largest English speaking country in the world (the UK ranks 8th), according to World Population Review 2021. English is the native or second language for the majority of the Philippine population. It is also the top language spoken in schools and workplaces. This means that you can easily communicate your expectations to your offshore Filipino staff without communication barriers.
World Class Programming Talent
The kind of programming talent you can find in the Philippines is as good as anywhere in the world. This is the reason why world-renown companies like Google, Paypal, JP Morgan Chase, and many others have decided to setup operations in the country. The Philippines is a hotbed for offshoring and outsourcing. It can be your very own remote hub of web development operations in Asia while scaling your business in your own country.
Significant Savings On Developer Labor Costs
By offshoring to the Philippines, your company can avail the same level of talent found in first-world countries minus the hefty labor costs. The reason for this is the lower cost of living and labor in the Philippines. While you will still need to invest premium local rates to get the best talent in the country, the costs are significantly lower than what you'd spend for the same talent in the US, Australia, or the UK. Our clients typically save up to 75% compared to hiring locally.
High Degree Of Professionalism
The Philippines has a rich culture of professionalism and a good attitude towards work. Filipino developers, especially those hired through Outsourced, embrace core values of teamwork, commitment, and work-life balance. The result is quality work that you can be proud of and will increase your bottom-line for the long term.
Ideal Time Zones and Flexible Working Schedules
Offshore Philippine staff are amenable to any international timezone. For example, if your business is in Australia, your timezone will only be 1-3 hours ahead of our main office in Manila (depending on your exact region in AU). The small time difference can be offset by adjusting the schedule of your remote developer staff to an early morning shift (6 am to 3 PM, Philippine timezone).
If your business is in the UK, you are only eight (8) hours behind Philippine timezone. Your full-time developers can adjust to this by doing a "mid-shift", starting anytime from 2 PM to 4PM in the Philippines, and ending their shift at around 11 PM to 1:00 AM. This corresponds to the usual business hours in the UK.
For US clients, offshore Philippine teams perform "graveyard shift", working from night time to early morning. The work shift will depend on your exact timezone in the US and the requirements of your business. The bottomline is that dedicated Filipino workers have no problems adjusting to first-world country business hours.
Hire the best developers in the Philippines with our unique offshore staffing solution
Because of the growing IT-BPO industry, it is very common to see outsourcing companies based in the Philippines coming out of the woodwork. But Outsourced.PH is not your typical outsourcing or offshore staffing firm. In fact, for the greater part of the past decade, we have positioned ourselves well above pedestrian "remote staffing" companies you'd normally see and have hundreds of staff dedicated to some of the world's leading organisations.
Here's why:
At Outsourced, we not only hire the best developers, we also provide them all the tools, equipment, and workspace they need to serve your business! Our company spared no expense in setting up fully serviced offices in Metro Manila, Philippines. These offices are equipped with the latest technology and amenities like the following:
World-class standard hardware and software
Premium reception area, pantry, and meeting rooms
Open plan offices with state-of-the-art network infrastructure
Fully dedicated support staff such as IT, admin, accounting, HR, and receptionists to assist your staff
Fast internet speeds with fail-over
ISO certified quality standards and data security
How we help full-time developers adapt to changing times
We've created a unique solution for your full-time web developers in light of the changing times and health protocols implemented worldwide. You can now choose among three options for hiring dedicated staff. Your choice will depend on the specific needs of your business:
Office based developers. Your development staff or team will report daily in our offices in Manila. The state-of-the-art facilities we provide them will foster more team collaboration and productivity. Our offices are well-sanitized and is compliant with strict health standards.
Home-based developers. This is suitable for smaller teams of around 1-10 people. Your full-time developers will report to you from their home offices. We will issue them work equipment with desirable specs, and also provide remote employee support for their needs.
Flexidesk developers. This hybrid solution sets us apart from most offshoring options in the Philippines. If you choose this option, your developers will work from home but will also have access to our shared co-working desks. The flexibility will provide more work-life balance for your staff, and give them much needed support no matter where they work.
To learn more about our various offshore staffing solutions, visit our How It Works page for a full comparison of each option. We will then help you determine which is the best option for you when it comes to hiring developers.
For more information on hiring a full time developer simply contact us.