Remote Customer Support Staff
Customer Support Outsourcing Philippines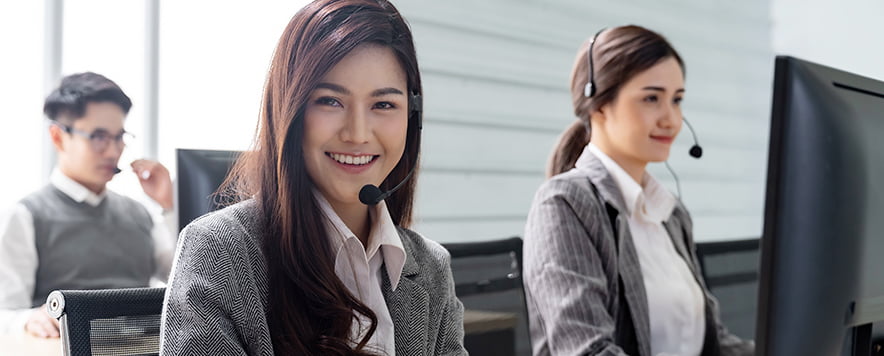 A customer support specialist is the person who interacts with your customers, answers their questions and solves their problems. They are tasked with building a positive rapport between your company and the public and spreading your brand messaging.
That's why customer support outsourcing is so popular, because whilst essential, it can be very difficult and expensive to find the right person for this role. Outsourcing to the Philippines, however, gives you access to an extensive pool of talented professionals who are ready and waiting to take up a dedicated, full-time, remote based role with your company.
You can hire one specialist or we can build and manage an entire offshore call-centre in the Philippines for your business.
Tasks performed by a customer support specialists include, but are not limited to the following:
– Building and maintaining a positive relationship between your company and your customers.

– Responding to customer queries, complaints and feedback via email, phone or online chat.

– Communicating effectively with management and your sales team.

– Providing solutions to customer enquiries or complaints.

– Suggesting and explaining other products or services to customers.

– Following up with customers in a timely manner.

– Maintaining a record of customer interactions.
---
---
Customer Support Philippines
The primary role of a customer support specialist in the Philippines is to resolve customer issues quickly and efficiently, so you want someone with excellent communication skills. You also want someone with a strong command of the English language (both spoken and written), as well as a service-orientated approach to dealing with your customers.
The ability to quickly gain knowledge of your products or services and keep themselves updated on their features and upgrades is also important. Proficient computer skills, active listening and problem solving skills are also essential to the customer support role.
– Excellent communication skills.

– Outstanding command of both written and spoken English.

– Ability to quickly get up to speed with your products or services.

– Problem solving and multi-tasking skills.

– Proficiency with help desk software, such as Zoho, Hubspot and Salesforce.
Many customer support professionals possess a Bachelor's degree in IT, Communications, Business Administration or other relevant field. They also have previous experience in a customer service role and the ability to work well under pressure.
Customer support outsourcing in the Philippines
Customer support outsourcing is a very cost effective strategy that helps your business grow and expand, whilst working within a limited budget. As a leading provider of customer support professionals in the Philippines, Outsourced manages the recruiting, hiring and onboarding of your new employees. This saves you a significant amount of time and money.
Your new customer service specialist works locally at our state-of-the-art facility in Manila. We provide all the resources they need to fulfil their role for your company and manage their day to day needs (HR, payroll, sick leave, holidays, computers, fast internet access, software and IT support). You maintain complete control over their workload and have direct access via email, phone or video links.
For more information on hiring a remote Customer Support Specialist for your business or organisation in the Philippines, contact Outsourced today.