Remote User Interface Designers
Offshore UI Design Philippines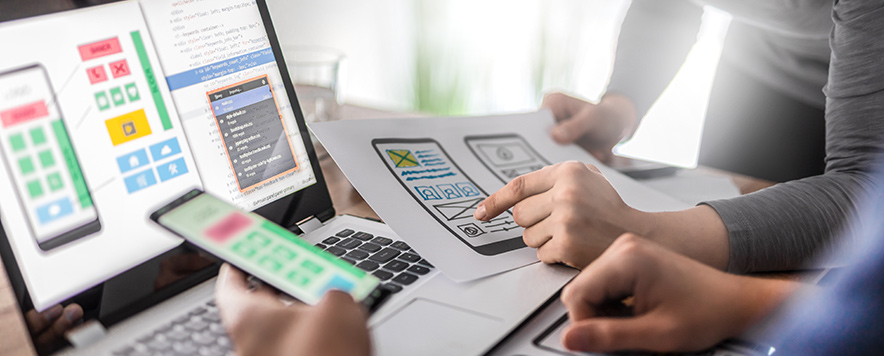 A remote user interface designer in the Philippines is an essential member of your team. Their role is to ensure that the front-end of software or computerised devices is visually pleasing, themed appropriately and matched to your brand. They usually have a background in design and an interest in technology, focusing on the look and layout of user interfaces.
When you hire a remote user interface designer in the Philippines, they will have extensive research skills, as well as graphic design, web design, typography and branding skills. Their main task is to ensure that everything you see on the screen is clear, attractive and adheres to brand colours, and that the look and feel of the user interface is optimised.
However, the role of an offshore user interface (UI) designer is distinct to that of a user experience (UX) designer, although the two roles are often confused or even combined. So whilst a UI designer is involved with the graphical layout of an application, for example clickable buttons, images, sliders, text, screen layout, animations, and so on, a UX designer is concerned with a user's experience of the interface. This means they are not concerned with colours, shapes or line spacings, instead they need to make the interface easy to understand and use.
Offshoring the role of a user interface (UI) designer allows you to access a large pool of talented professionals in the Philippines who have the experience, qualifications and skills required by your company. Many of these professionals have both UI and UX experience, so it depends on your company's needs whether you want a remote UI designer, UX designer or a designer who can take on both roles.
---
---
Offshoring the role of a remote user interface designer is common in the Philippines, because it's very cost effective strategy. Ui and UX designers are in great demand and recruitment drives can be extensive, exhausting and expensive. So having access to the talent pool in the Philippines makes recruitment much easier and less costly.
The team at Outsourced has a large network of professionals who are seeking work in the Philippines, so we can manage your recruitment processes very easily. All you need to do is to send us a list of criteria for your new offshore UI designer and we will present you with a shortlist of suitable candidates. Once you have made your selection, we can also manage the onboarding process as well. In addition, when you outsource to the Philippines using the Outsourced team of experts, your new remote UI designer will be based locally at our facilities. This means that we provide all the infrastructure and resources they need to fulfil their role with your company.
Managing the recruitment and onboarding processes, as well as providing your new employee's infrastructure and resources saves your company a significant amount of time and money. This is why outsourcing in the Philippines is such a cost effective strategy.
For more information on hiring a remote user interface designer in the Philippines for your company, contact Outsourced today.