Outsourced Insurance Claims Processing Staff
Remote Claims Processors Philippines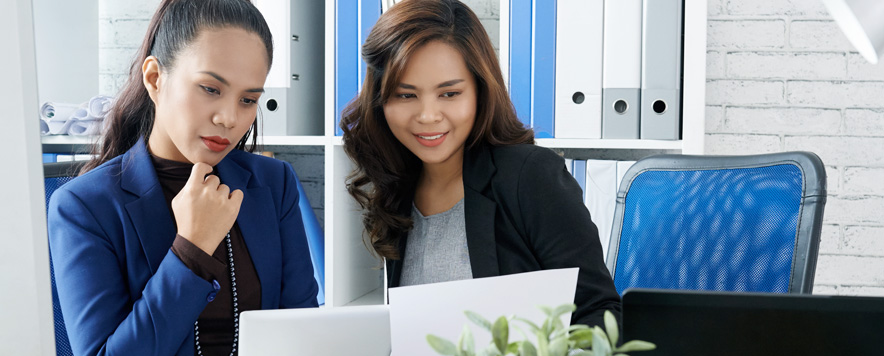 Are you hoping to add a Claims Processor, Claims Handler or Claims Support Assistant to your team in the Philippines? Claims processing is a vital part of your business, but if these duties aren't performed quickly and efficiently, your company's reputation can suffer. That's why you need an experienced, skilled and talented Claims Processor on your team.
Fortunately, an offshore Claims Processor employed by Outsourced is the ideal solution, because they operate remotely, but remain under your management in the Philippines at all times. This frees up your staff to focus on other areas of your business, leaving the claims department to run smoothly and efficiently under minimal supervision.
---
---
Remote claims processors in the Philippines can significantly increase efficiencies in insurance claim processing. With their expertise and dedicated full-time support, they can enhance various areas of efficiency in the process:
Increase efficiencies with remote loan processors in the Philippines
. Here are key areas where remote full-time insurance claims processors can make a difference:
Expedited Claims Processing: Remote processors can handle claim submissions, document verification, and data entry promptly, ensuring faster processing times and reducing bottlenecks.
Accurate Data Management: Remote claims processors can efficiently manage claim-related data, ensuring accuracy, organization, and secure storage. This allows for easy retrieval and quick access to necessary information.
Effective Communication: Remote processors possess excellent communication skills, enabling effective and timely interaction with policyholders, agents, and other stakeholders. Clear communication facilitates smoother claim processing and resolution.
Risk Assessment and Fraud Detection: With their expertise, remote processors can conduct thorough risk assessments, identify potential fraudulent activities, and implement proper fraud detection measures, mitigating risks for insurance companies.
Streamlined Workflows: Remote processors can help streamline claims workflows by optimizing processes, reducing redundancies, and implementing automation where possible. This enhances overall efficiency and reduces processing time.
Reporting and Analysis: Remote claims processors can generate reports, analyze claim data, and provide insights for process improvement. This enables insurance companies to make data-driven decisions and enhance their claims management strategies.
We have experience hiring claims support specialists in the Philippines with various job roles such as:
Claims Support Assistant
Claims Consultant
Claims Manager
Claims Advisor
Claims Handler
Claims Executive
Claims Assessor
Claims Specialist
Advantages of building a remote claims processing team
Building a remote claims processing team offers unique advantages, especially for the insurance industry when outsourcing to the Philippines. Consider the following industry-specific benefits:
Industry Knowledge
Remote claims processors in the Philippines possess a deep understanding of insurance policies, coverage, and claim procedures. Their expertise ensures accurate evaluation, verification, and processing of claims, minimizing errors and speeding up the resolution process.
Compliance and Regulation
Remote teams in the Philippines are well-versed in insurance regulations and compliance requirements, ensuring adherence to industry standards. This mitigates the risk of non-compliance and potential legal issues, safeguarding the reputation of the insurance company.
Fraud Detection and Prevention
Skilled remote claims processors employ effective fraud detection techniques specific to the insurance industry. They can identify suspicious claims patterns, assess risks, and implement robust fraud prevention measures, safeguarding the insurance company's financial interests.
Enhanced Customer Experience
Remote teams prioritize customer satisfaction by providing prompt and personalized support throughout the claims process. Their empathetic approach and clear communication foster positive customer interactions, leading to increased loyalty and retention.
Efficient Claims Handling
Remote claims processors optimize workflows, employ advanced technologies, and implement automation where applicable, streamlining the claims handling process. This results in quicker turnaround times, improved operational efficiency, and reduced costs for the insurance company.
Hire Remote Claims Processors With Outsourced
At Outsourced, we help you hire an expert Claims Processor, Claims Handler or Claims Support Assistant for your company. Someone who can process your claims quickly, prepare claims documents and other paperwork, respond to claims enquiries and assist other staff in processing complicated claims.
They can also process new policies, adjust existing policies, investigate or deny claims, and obtain information from policy holders to confirm the accuracy of their accounts.
Our Claims Processors have strong communication skills and a superior level of attention to detail. By hiring a Claims Processor through Outsourced, you start to build a team of skilled operatives who can help you grow and expand your business. You also cut operational costs, because you can hire staff at a fraction of the cost of in-house employees. Hiring an offshore Claims Processor offers all the benefits of a full-time employee without any of the financial stress involved in hiring and training new staff.
Contact Outsourced today for more information on hiring a Claims Processor, Claims Handler or Claims Support Assistant for your company.