Hire Cybersecurity Engineers
Offshore Cybersecurity Professionals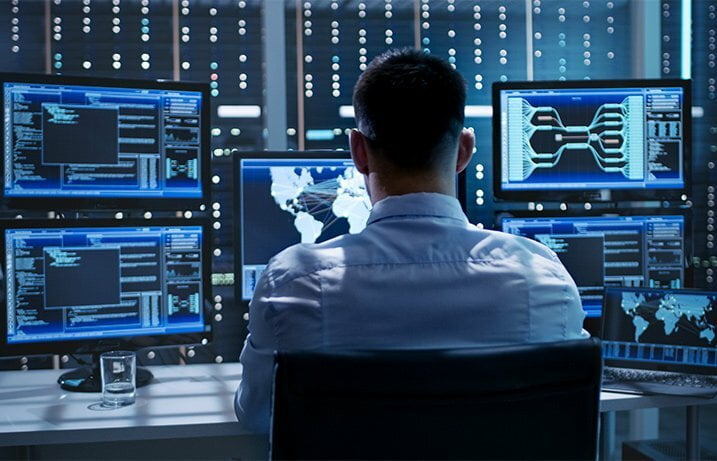 Hiring A Cybersecurity Engineer in the Philippines
Are you a business owner in search of top-tier cybersecurity engineers and professionals? In today's digital landscape, safeguarding your data and systems is paramount. In an era of increasing cyber threats, it's crucial to have top-tier cybersecurity professionals and engineers on your team. These experts possess the knowledge and skills necessary to protect your sensitive data, prevent breaches, and fortify your systems.
Cybersecurity engineers are responsible for designing, implementing, and maintaining security solutions for organizations. They work with a variety of stakeholders, including business leaders, IT staff, and security experts, to develop and implement security policies and procedures.
Outsourced PH offers a solution tailored to your needs, providing highly skilled cybersecurity experts who can defend against evolving threats and ensure your business remains secure. Trust us to deliver the expertise and peace of mind you deserve.
---
Hire Dedicated Offshore Cybersecurity Engineers and save up to 75% compared to hiring locally
Contact us to learn about our transparent fixed monthly rates with no long term contracts.
---
We have experience in hiring talented cybersecurity engineers that can fill up a key role in your organization. Here are some of the roles or job positions that can be filled by our online security experts:
Security Analyst: Analyzes and assesses security risks, monitors for potential threats, and implements appropriate security measures.
Network Security Engineer: Designs, implements, and maintains network security infrastructure to protect against unauthorized access and data breaches.
Incident Responder: Responds to and investigates security incidents, identifies the root cause, and develops strategies to mitigate future occurrences.
Vulnerability Assessor: Conducts assessments and scans to identify vulnerabilities in systems, networks, and applications, and recommends remediation strategies.
Cryptographer: Designs and implements cryptographic algorithms and protocols to ensure secure communication and data protection.
Security Architect: Designs and develops security solutions, defines security standards and policies, and ensures overall system security.
Penetration Tester: Conducts controlled attacks on systems and networks to identify vulnerabilities and weaknesses, providing recommendations for improvement.
Security Consultant: Provides expert advice and guidance on security strategies, risk assessment, and compliance requirements.
Security Operations Center (SOC) Analyst: Monitors and responds to security alerts and incidents, investigates potential threats, and collaborates with incident response teams.
Identity and Access Management (IAM) Specialist: Manages user access, authentication, and authorization processes, ensuring secure and controlled access to systems and data.
These roles cover a range of responsibilities within the field of cybersecurity and highlight the diverse expertise required to protect organizations from digital threats.
Why You Should Hire Offshore Cybersecurity Engineers in the Philippines
When it comes to bolstering your cybersecurity team, hiring offshore cybersecurity engineers from the Philippines can offer numerous advantages. The country boasts a large pool of highly skilled professionals who are well-versed in the latest security technologies and practices.
With competitive pricing, outsourcing your cybersecurity needs to the Philippines allows you to access top talent at a lower cost compared to local hires. Additionally, the Philippines' robust IT infrastructure and English proficiency make it an ideal choice for seamless collaboration and communication.
Embrace the benefits of offshore cybersecurity staffing and enhance your organization's security posture with the expertise of professionals from the Philippines.
Outsourced: Your Go-To Resource for Expert Cybersecurity Professionals
When it comes to securing your digital assets, Outsourced is your trusted partner for accessing expert cybersecurity professionals. With a proven track record and a commitment to excellence, we provide a wide range of highly skilled cybersecurity engineers who can address your organization's specific needs.
Whether you require security analysts, network security engineers, or incident responders, our talented team can deliver the expertise and peace of mind you seek. Trust in Outsourced as your go-to resource for finding and hiring top-tier cybersecurity professionals who will fortify your defenses and safeguard your valuable data.
What To Do Next
Ready to enhance your organization's cybersecurity defenses? Don't wait any longer. Contact Outsourced today to discuss your specific cybersecurity staffing requirements.
Our dedicated team will work closely with you to understand your needs and provide tailored solutions. By partnering with Outsourced, you can leverage our extensive network of cybersecurity professionals in the Philippines, ensuring that you have access to the right talent to protect your business.
Take the proactive step towards a more secure future by reaching out to us now.