Hire Embedded Systems Developer
Embedded Systems Development Outsourcing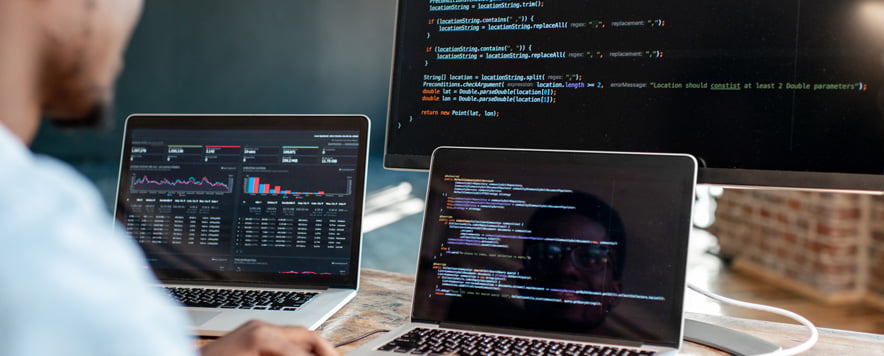 An embedded systems developer designs and develops software that runs on specialized computer systems known as embedded systems. These systems are typically dedicated to specific functions or tasks and are found in various devices like consumer electronics, medical devices, and automotive systems. The developer works closely with hardware engineers to create efficient and optimized software that interacts with the hardware components, ensuring reliable and robust operation of the embedded system.
The embedded systems developer also writes low-level code, often in programming languages like C or C++, to control the hardware and perform specific tasks. They handle tasks such as device drivers, real-time operating systems, and communication protocols. Additionally, they conduct debugging, testing, and performance optimization to ensure the system meets the desired specifications and requirements. The role requires a deep understanding of both software and hardware, as well as strong problem-solving skills to address the challenges of developing efficient and reliable embedded systems.
With Outsourced you can hire a remote full time Embedded Systems Developer, or build a team of dedicated embedded systems developers in the Philippines.
---
Hire Dedicated Remote Embedded Systems Developers and save up to 75% compared to hiring locally
Contact us to learn about our transparent fixed monthly rates with no long term contracts.
---
With a robust educational system and a growing technology sector, the Philippines provides access to a vast talent pool. Companies can leverage this expertise by outsourcing their embedded systems development projects, saving costs without compromising on quality.
Outsourcing Embedded Systems Development To The Philippines
Outsourcing embedded systems development to the Philippines offers numerous advantages for businesses seeking efficient and cost-effective solutions. The country is renowned for its pool of highly skilled and talented engineers specializing in embedded systems.
Additionally, the time zone compatibility and English proficiency of Filipino engineers make collaboration and communication seamless, enhancing project efficiency and success.
Benefits of Hiring An Offshore Embedded Systems Developer
Here are some key benefits:
Expertise and Specialization: Embedded systems developers possess deep knowledge and specialized skills in designing and programming software for dedicated computer systems.
Efficient Development: They can create efficient and optimized code that maximizes system performance and minimizes resource usage.
Seamless Hardware-Software Integration: These developers work closely with hardware engineers, ensuring smooth integration between software and hardware components.
Debugging and Testing Proficiency: They excel in debugging complex issues and conducting thorough testing to ensure system reliability and stability.
Cost and Time Savings: By hiring dedicated embedded systems developers, businesses can save on costs associated with maintaining in-house teams.
Scalability and Flexibility: Hiring these developers allows businesses to scale their development capacity as needed and adapt to evolving project requirements.
Industry Insight: They stay updated with the latest industry trends, tools, and technologies, enabling businesses to leverage their expertise for innovation and competitive advantage.
By harnessing the skills of embedded systems developers, businesses can unlock the full potential of their hardware systems, develop robust and efficient software solutions, and stay ahead in today's technology-driven landscape.
Work With Outsourced to Hire A Talented Embedded Systems Developer
Partnering with Outsourced provides you with the opportunity to hire a skilled and talented embedded systems developer for your projects. With access to a vast talent pool and cost-effective solutions, you can trust in the expertise of our developers to deliver efficient and optimized software solutions.
Take the next step towards success and contact us today to find the perfect embedded systems developer for your needs. Contact the Outsourced team today!