Hire Full Stack Developers
Full Stack Development Outsourcing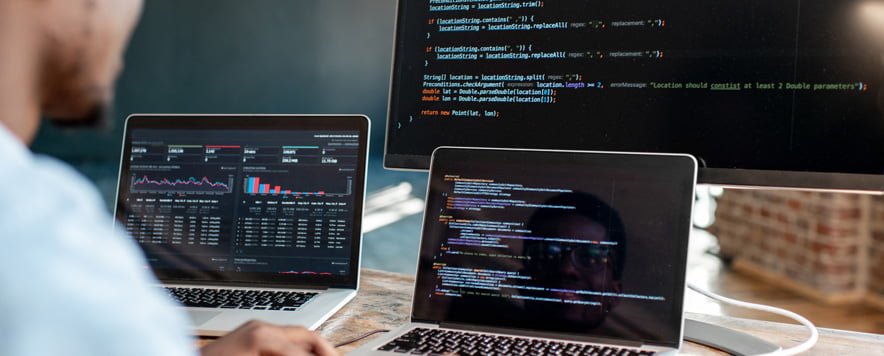 A Full Stack Developer handles all aspects of web development, from front-end design and interaction to back-end server management and data handling. They translate user needs into functional, efficient software, ensuring a seamless user experience.
Hiring expert full-stack developers is crucial for businesses, offering comprehensive expertise in both front-end and back-end development. They streamline the web development process, reducing the need for multiple specialists.
---
Hire Dedicated Full Stack Developers and save up to 75% compared to hiring locally
Contact us to learn about our transparent fixed monthly rates with no long term contracts.
---
The broad skills of expert full stack developers can accelerate product delivery, improve user experience, and potentially reduce costs, fulfilling the business needs for efficiency, effectiveness, and economic operation.
Why Outsource Full Stack Developers To The Philippines?
Outsourcing full-stack developers offshore provides innovative and creative solutions to keep your company's operations running smoothly. This cost-effective strategy often surpasses hiring in-house or local talent. Choosing the right outsourcing provider is crucial as they ensure access to top-tier talent, resulting in high-quality development and a successful project outcome.
Benefits Of Hiring Offshore Full Stack Developers in the Philippines
The Philippines has become a hub for skilled Full Stack Developers, providing industry-specific benefits to businesses worldwide.
Coding Excellence: Filipino developers are known for their proficiency in various programming languages, ensuring clean, efficient code for your projects.

Mobile-Friendly Websites and Applications: They are adept at creating responsive, user-friendly designs that work flawlessly on all devices, enhancing user experience.

Technological Trends: With their finger on the pulse of global tech trends, Filipino developers can help your business stay ahead of the curve, implementing the latest technologies in your projects.

Enhanced IT Framework: Their comprehensive skills can significantly improve your company's IT framework, optimizing processes and systems for better performance and security.
Build a remote Full Stack Developer team in the Philippines with Outsourced
Outsourced can streamline the process of hiring top-tier full stack developers from the Philippines, tailored to your specific project requirements.
You have the option to start small with an individual developer and then scale up to a full team as your business expands and evolves. Regardless of how many staff you want to hire, you are in total control.
Our offshore full-stack developers can fill various roles:
Lead Developer
Systems Analyst
IT Project Manager
Quality Assurance Specialist
Software Engineer
Data Scientist
UI/UX Designer
Contact Outsourced Today
Ready to hire top-notch full stack developers from the Philippines? Contact Outsourced today to get started. Click here to learn more.