Hire Software Architects
Software Architect Outsourcing Philippines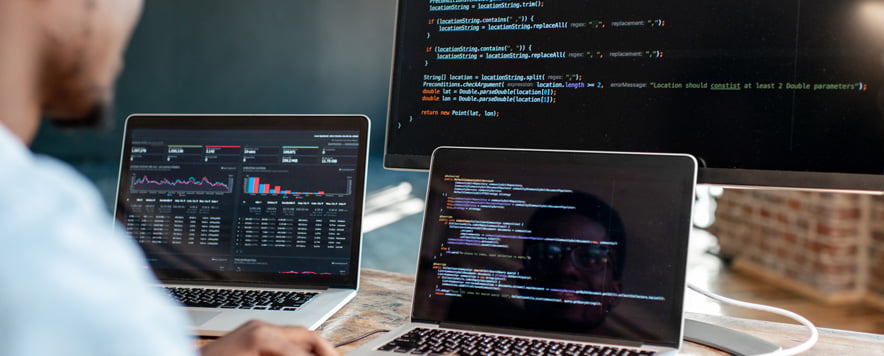 A Software Architect designs, oversees, and guides the development of software systems. They strategize on system structure, select appropriate technologies, coordinate with developers, and ensure the architectural integrity of the software. Their role is crucial in translating business needs into technology solutions.
Hiring a Software Architect is very important as they bridge the gap between complex business problems and solutions in technology. They design scalable and efficient system architecture, choose appropriate technologies, ensure security protocols and manage developmental tasks.
---
Hire Dedicated Offshore Software Architects and save up to 75% compared to hiring locally
Contact us to learn about our transparent fixed monthly rates with no long term contracts.
---
The strategic role of software architects ensures the software aligns with business objectives, reduces development time, enhances quality, and ensures long-term software maintainability.
Why Outsource Software Architects To The Philippines?
Outsourcing software designers offshore facilitates faster time-to-market and on-demand scaling, crucial for startups and established businesses alike. It also allows companies to focus on their core competencies while the outsourced team handles the development tasks.
However, the real game-changer is partnering with an outsourcing provider that can ensure access to the top 1% of talent in their country, guaranteeing quality output and innovative solutions.
Benefits Of Hiring Offshore Software Architects in the Philippines
Hiring full-time remote Software Architects from the Philippines can significantly enhance your organization's technical capabilities.
Filipino Software Architects are renowned for their excellent coding skills, producing robust and efficient software applications.
They have a strategic approach to designing scalable software solutions, ensuring that they can adapt and grow with your business needs.
Keeping abreast of the latest technological trends, these professionals can incorporate cutting-edge features into your software, ensuring it remains competitive.
Beyond their technical expertise, Software Architects from the Philippines often excel in leadership roles, guiding development teams towards successful project completion.
Build a Remote Software Architect Team in the Philippines with Outsourced
Outsourced aids in hiring top-notch Software Architects from the Philippines by providing access to a talent pool of skilled professionals, ensuring quality work, cost-effectiveness, and timely delivery.
Our offshore staff's expertise spans across coding, designing scalable solutions, staying updated with technological trends, and leadership roles. We can help you enhance your organization's technical capabilities while keeping your software competitive. 
You can initially hire an individual software architect and, depending on your business needs and growth, gradually scale up to a team of architects for more comprehensive support.
Our offshore Software Architects in the Philippines can fill a variety of roles, including:
Lead Architect: Overseeing software development projects.
Solutions Architect: Designing tailored software solutions.
Enterprise Architect: Aligning IT strategy with business goals.
Systems Architect: Building and integrating information systems.
Data Architect: Structuring data in line with business requirements.
Contact Outsourced Today
Ready to enhance your software solutions? Contact Outsourced today! Click here to get started and discover how we can elevate your business with top-tier Software Architects.