Magento Developers For Hire: Finding the Best Magento Developers In Today's Digital Space
June 29, 2017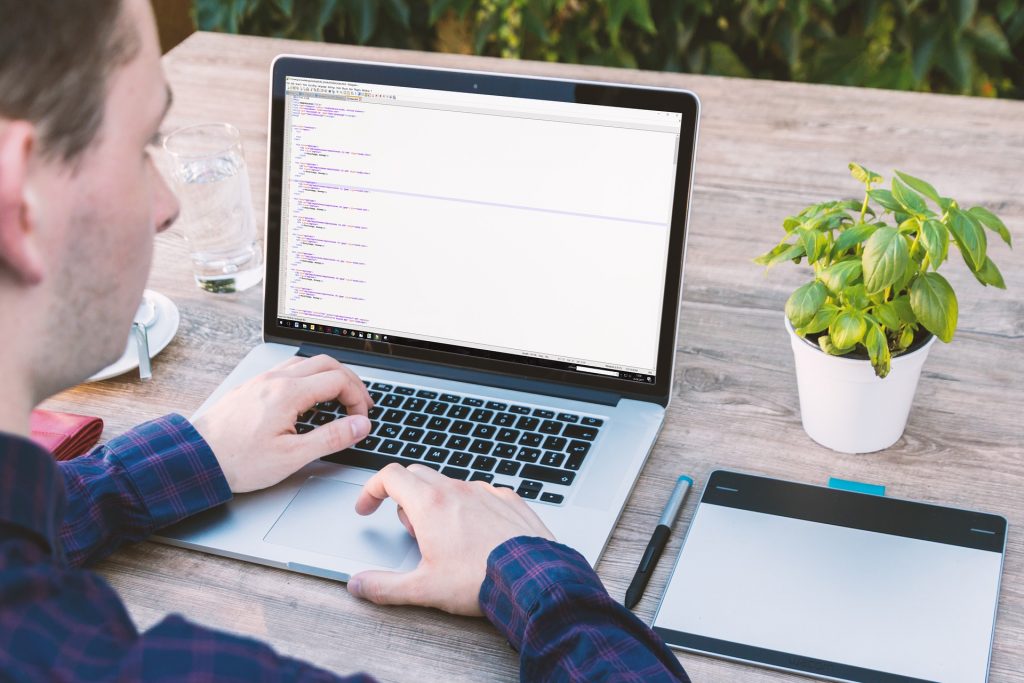 For those in the ecommerce industry, Magento is known as one of the top platforms favored by many of today's medium to large scaled businesses worldwide.
With its display of high performance, easy integration, flexibility, mobility and the ability to multi-task; this SEO friendly and open source platform is bred to be an eCommerce beast that very few can rival.
Brands such as Ford, Nestle, Nike and Samsung have chosen Magento – which, to this day continuously dominates the realm of eCommerce.
Magento Developers For Hire
Statistics show the continuous rise of eCommerce and the ongoing growth of consumers who continuously enjoys the convenience provided by online shopping is undeniable. Hence, the search for the best magento developers have risen in the past years.
So where do agencies, corporations and small to medium sized businesses find qualified magento developers to assist them in building their online stores – or help with the expansion and enhancement of their current one?
In finding the right magento developer for your business, you need to clearly state your needs, requirements and expectations – including your budget and time frame.
Once you've determined this, you can start looking for the right magento developer/s for your project/business.
Freelance Marketplace Websites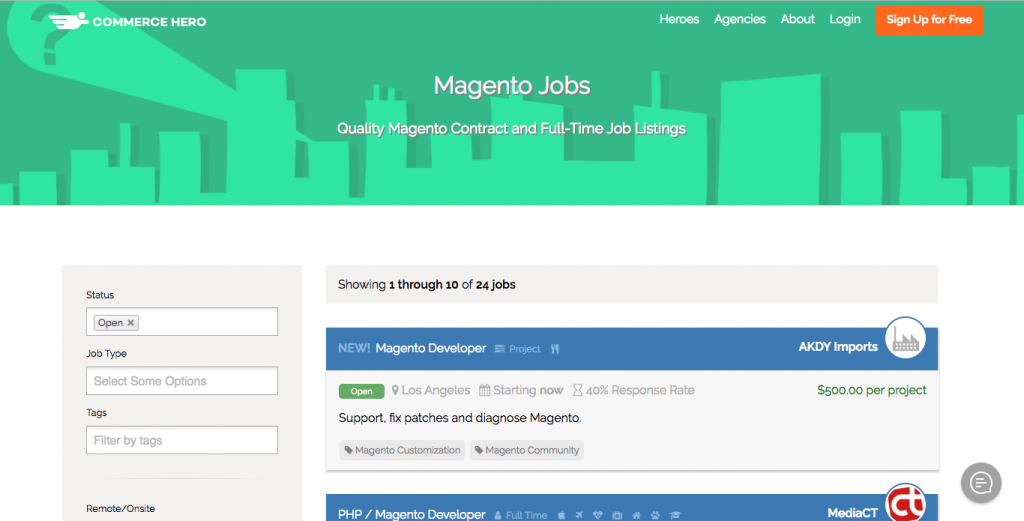 For short-term projects, popular websites such as Commerce Hero, Craigslist, Freelancer, GitHub and Upwork allows you to find freelance magento developers, as well as having the option of posting a job for free.
You can even opt to hire a certified magento developer from these sites if you wish.
Magento Cerification Directory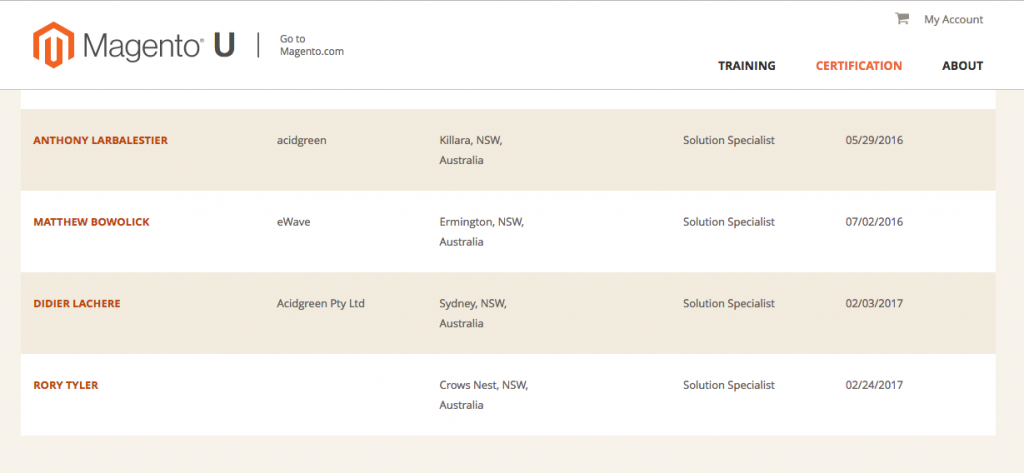 In cases where you want to work with only certified magento developers, you can visit the Magento Certification directory to know the developers that are accredited by Magento.
This is perfect for those who wish to simply work with developers and not agencies.
Magento Events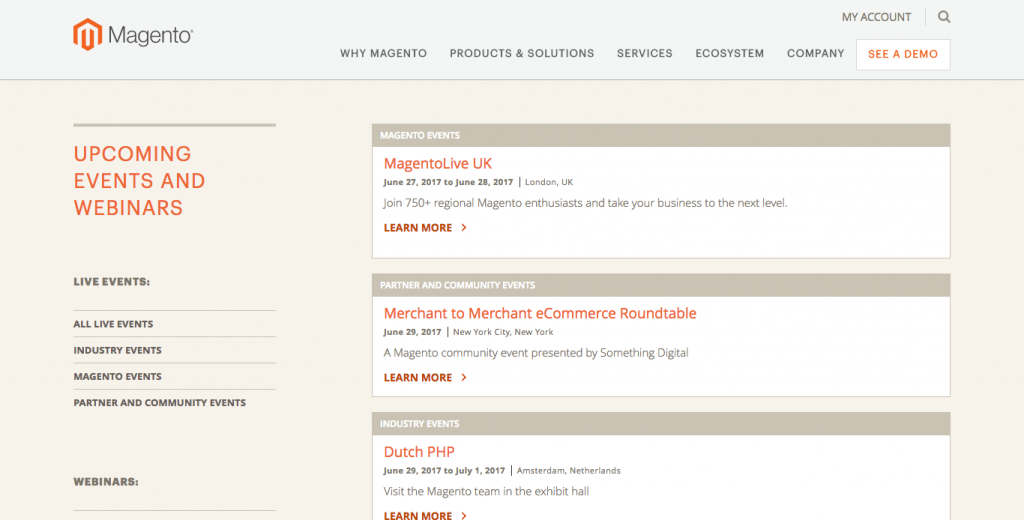 Whether you're looking for a magento developer or a partnership with an outsource agency in the Philippines, you can do so by attending industry and Magento Events in your area. You are bound to meet a lot of magento developers as well as Partner Agencies who are sure to meet your needs and requirements.
Magento Imagine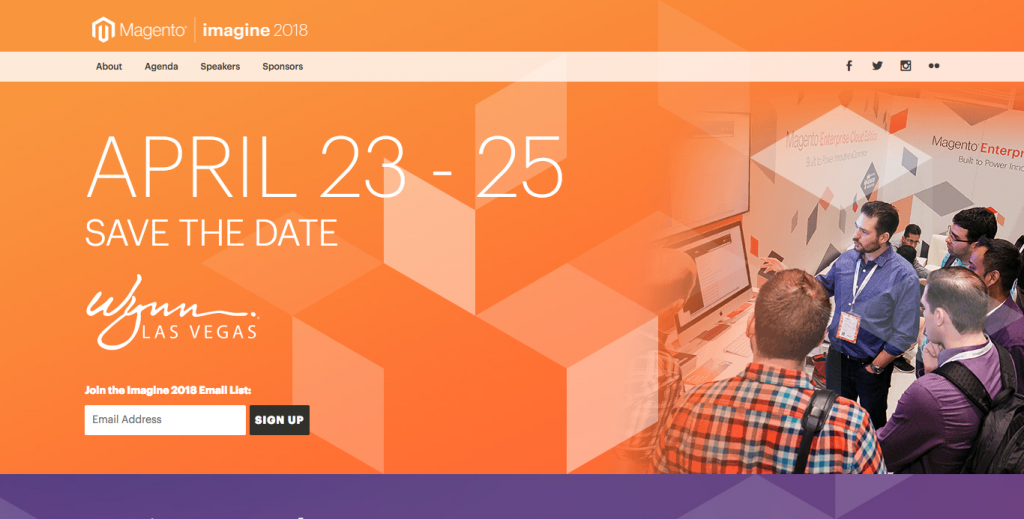 Going to the Adobe Summit is a must if you wish to nab really good developers. You see, unlike most Magento meet-ups, this yearly affair is where you'll find the most active participants in the Magento Community – eagerly anticipating this much-awaited event.
After all, nothing feels better than being amongst those who understand the power and beauty of this technology while taking the time to bond with magento enthusiasts with whom they could possibly collaborate and work with in the future.
Magento Solutions Partner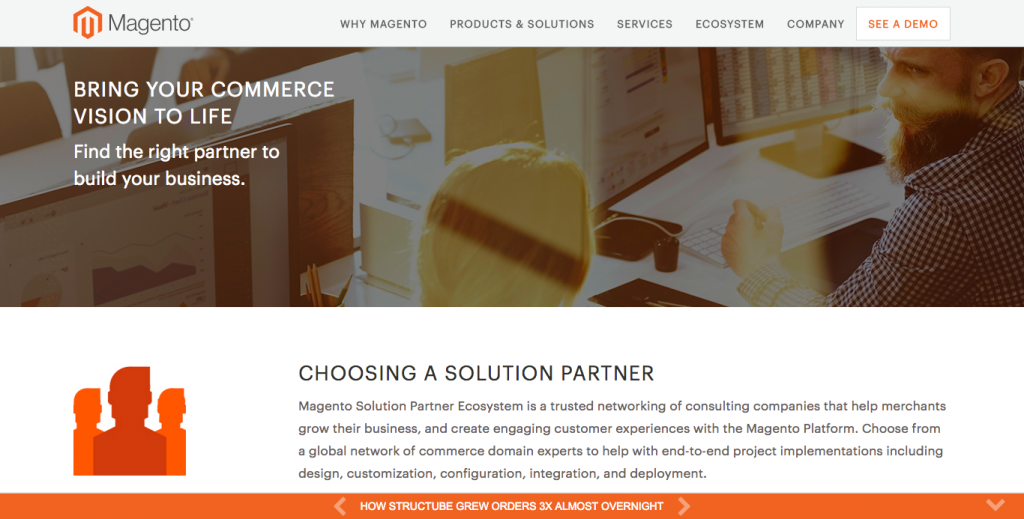 When it comes to helping you with all kinds of implementation, you can go directly to Magento's Solution Partner community.
Since Magento has given their seal of approval when it comes to the capabilities of these partners (with all the training, support and services that are made accessible to them), you can be assured that your expectations will be met.
Now there are numerous reasons why companies choose to work with agencies that are accredited Magento Partners, you should consider its ability to help you get the best ROI while generating the highest conversion rates for your business.
Take note that this would cost you a bit more in comparison, but in cases where cost is not much of an issue and quality reigns supreme, then this is the way to go.
Magento Forums
You can easily spot qualified magento developers by simply checking out Magento Forums.
Focus on those who are not only active, but more importantly, the ones who share a lot of their insights and knowledge with their peers.
This shows how experienced and capable they are, and how well they get along with people in general – after all, you want to hire someone who is personable and easy to work with.
Social Network Service (Business-Employment Related)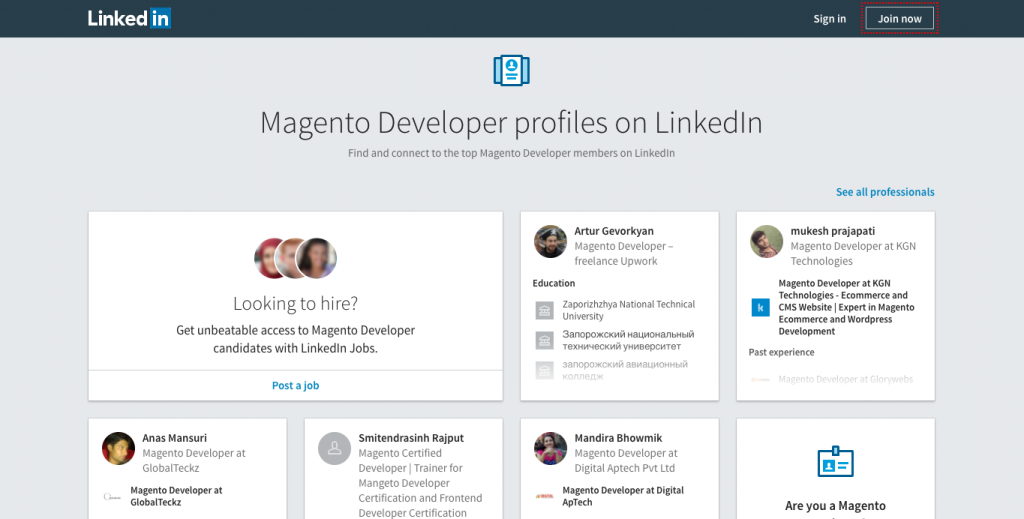 LinkedIn is a great place to look for qualified professionals and is a great tool to use if you're wanting to hire a magento developer.
This is an ideal place to search for when you want to hire someone because you can view their professional background, skills and work ethics based on the reviews from their colleagues.
You simply type in "Magento" and you'll find the people who have listed this specific skill in their profile.
Online Communities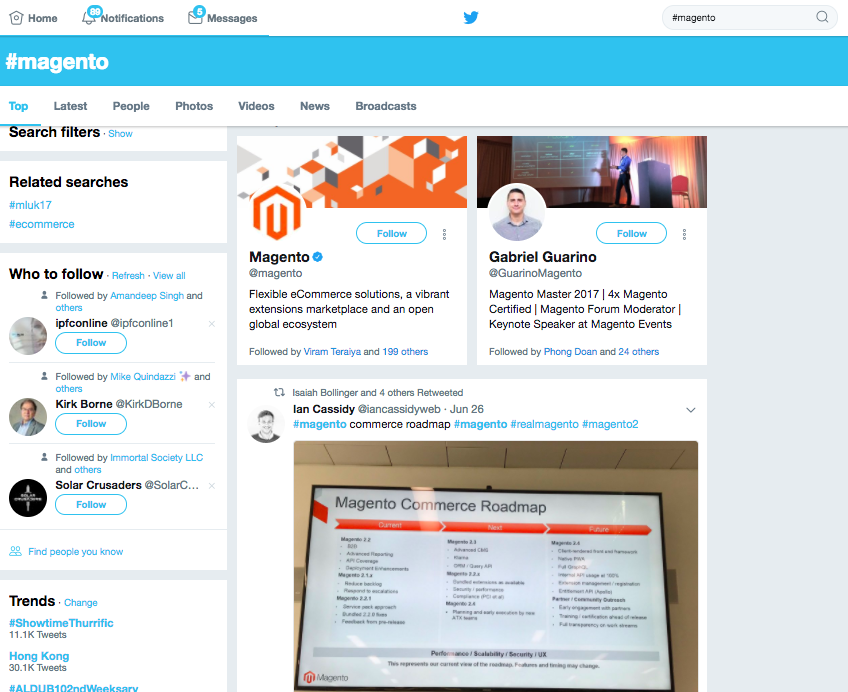 There are number of online communities where you can find many magento enthusiasts. These include the very popular social media platforms such as Twitter, where you can harness the power of hashtags such as #Magento #MagentoDevelopers #MagentoJobs, etc. to locate for developers or companies that offer magento services.
You can also find Adobe Commerce groups in sites such LinkedIn to further assist you in your quest to find the right magento developers to hire.
For Facebook and Google+, you can check out some of the list accumulated below:
Facebook Groups:
Google+ Communities
Magento Bloggers
You'll find several magento bloggers writing anything and everything related to Magento.
You can reach out to them and see if they are open to doing a project for you or if they can recommend qualified developers from their personal network.
Here are some Magento Bloggers you can check out:
Outsourcing Companies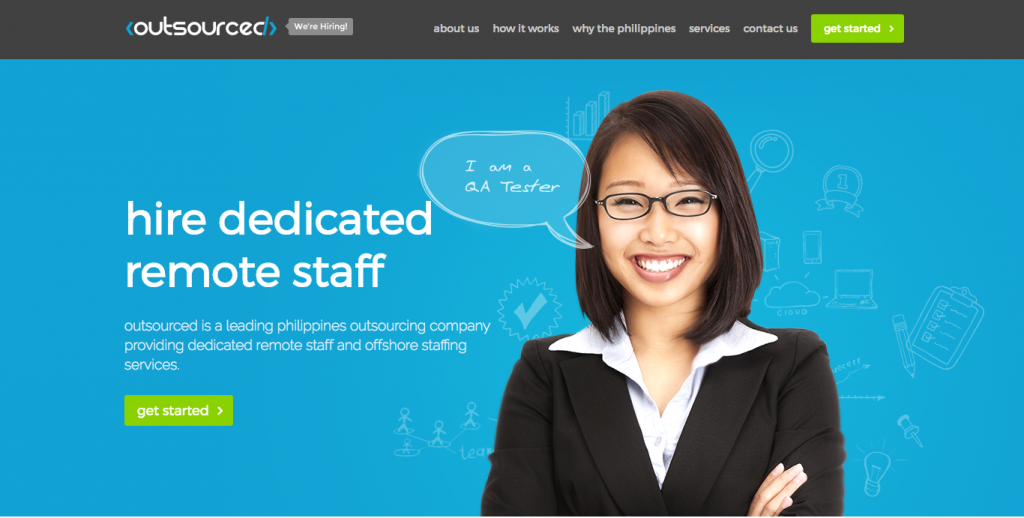 Outsourcing continues to be a popular choice for many businesses looking to be more cost efficient without compromising quality. So, if you're looking to hire a dedicated magento developer, or a team of them, then this is something that most IT outsourcing companies can provide.
After all, who can resist a deal that promises to deliver the goods on a long-term basis?
This is crucial for online store owners or businesses who wants to have an ongoing consultation
with a reputable company that has a firm grasp on how the Magento platform works.
It is imperative that they understand the importance of developing, maintaining and upgrading any eCommerce or Magento site.
As such, consistency and dependability is something that you need not worry about especially when it comes to codes, design, performance enhancement and integration – when you are dealing with experts.
If interested, you can check out some of today's leading and award winning outsourcing companies that have dealt with Magento Projects such as Outsourced Quality Assured, Inc. (Philippines)
So there you have it.
Finding the most qualified Magento Developers to hire for your project or business can be an easy and effortless task once you have decided on your budget, timeframe and workload.
Once you've decided on those three basic things, you can begin your search using the methods presented above and hopefully enjoy working with the magento developers of your choice.