Hire An Offshore Full Stack Engineer
Full Stack Engineer Outsourcing Philippines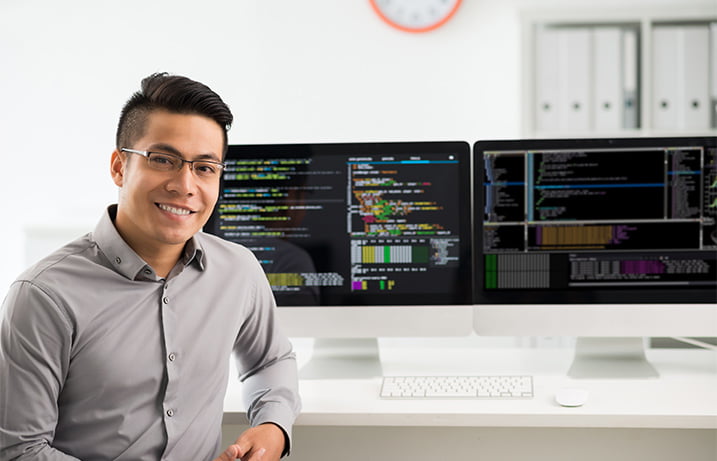 A Full Stack Engineer is a technical expert who handles all aspects of software development, from front-end design to back-end server management. They work on coding, debugging, UI/UX design, and server infrastructure, ensuring seamless integration of all parts for a fully functioning and efficient application.
Hiring a Full Stack Engineer is essential for businesses seeking to build or maintain complex software solutions. They fill the need for comprehensive development expertise, managing both client-side and server-side code.
---
Hire Dedicated Full Stack Engineers and save up to 75% compared to hiring locally
Contact us to learn about our transparent fixed monthly rates with no long term contracts.
---
The broad skill set of reliable full stack engineers reduces the need for multiple specialists. This helps companies streamline their project execution, enhance efficiency, and foster better coordination within the development team.
Why Should You Hire Offshore Full Stack Engineers In The Philippines?
Outsourcing Full Stack engineers offshore (such as in the Philippines) ensures timely project delivery and cost-effectiveness. It simplifies the development process, saving time and effort required for hiring and management.
Working with a reputable outsourcing provider is extremely important. Such providers (like Outsourced) have access to the country's top 1% of talent, ensuring you get skilled and experienced engineers for your projects. This significantly boosts the project's success rate, as these professionals are adept at handling complex scenarios and delivering innovative solutions.
Benefits Of Hiring Offshore Full Stack Engineers in the Philippines
Hiring full-time remote Full Stack Engineers in the Philippines provides businesses with enhanced flexibility and access to a wealth of technical expertise. There are myriad benefits to this, such as:
Faster Development: Engineers can manage both front-end and back-end, accelerating the development process.
Holistic Vision: They provide a comprehensive approach to project execution.
Enhanced Collaboration: Their broad skill set fosters better teamwork and coordination.
Flexible Work Arrangements: Remote work allows for adaptable scheduling and increased productivity.
Access to Experienced Professionals: The Philippines has a large pool of skilled engineers with extensive project experience.
Build a Remote Full Stack Engineer team in the Philippines with Outsourced
Outsourced can effectively streamline your hiring process for Full Stack Engineers in the Philippines. We provide access to dedicated, high-quality developers, ensuring a perfect match for your project objectives. Our extensive experience in staffing since 2012 guarantees a reliable and efficient hiring process.
You can start your offshore staffing journey with hiring a single Full Stack Engineer. As your business needs expand, you have the option to grow your team with us. This step-by-step staffing process aligns with your business growth, ensuring resources are utilized effectively.
Our offshore Full Stack Engineers can fulfill a range of roles, bringing a wealth of technical expertise to your team:
Full Stack Developer
Software Engineer
Application Developer
Systems Analyst
Web Developer
Front-end Developer
Back-end Developer
DevOps Engineer
Quality Assurance Engineer
Technical Lead
Contact Outsourced Today
Ready to harness the power of outsourcing and offshore staffing? Contact Outsourced today. Click here to start your journey towards efficient business operations.