Hire An Offshore App Developer
App Development Outsourcing Philippines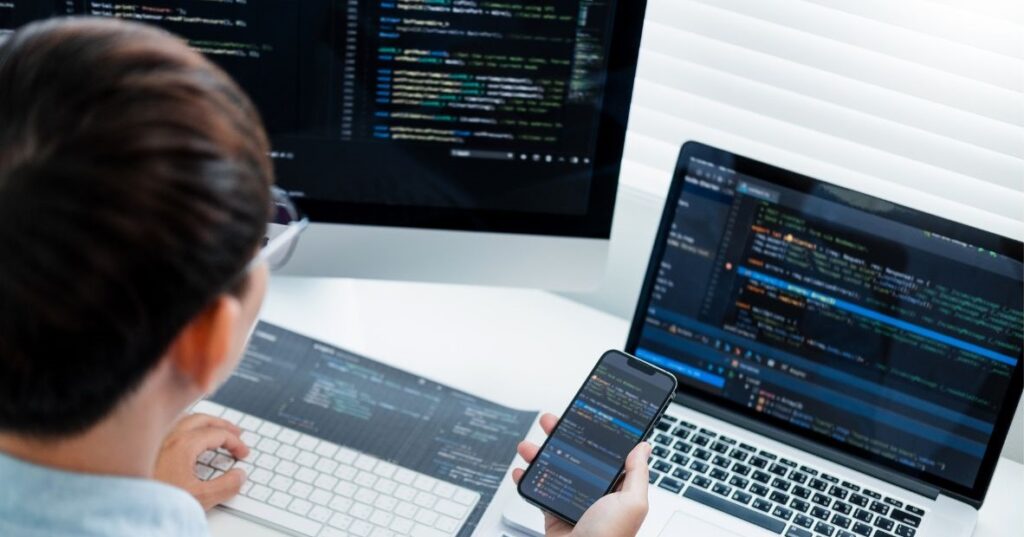 An app developer conceptualizes, designs, creates, and maintains applications for either mobile or desktop platforms. They utilize various programming languages, collaborate with teams, and liaise with clients to ensure the app meets user needs. Their responsibilities also include testing for issues, troubleshooting problems, and updating the app for enhanced performance and features.
Hiring an app developer is vital for businesses in today's digital age. They create and maintain innovative applications for mobile or desktop platforms, improving customer interaction and service accessibility.
Whether you're seeking to hire one home-based app developer or an entire offshore team operating from a premium office in the Philippines, Outsourced is your ultimate destination for all your app development needs.
---
Hire Dedicated Offshore App Developers and save up to 75% compared to hiring locally
Contact us to learn about our transparent fixed monthly rates with no long term contracts.
---
App developers fill the business need for digitization, extend market reach, enhance user experience, and stimulate business growth, contributing to increased competitiveness and revenue. Here at Outsourced we can help you hire full-time remote app developers in the Philippines that will serve as an extension of your team.
Why Hire Offshore App Developers in the Philippines?
Outsourcing app developers offshore speeds up work and brings in new ideas. It also lessens the chance of project issues. This way, businesses can use the latest tech without trouble. But, it's key to pick the right partner who can reach the best talent in the country for top-notch results.
In this regard, Outsourced can assist you to gain access to the top 1% of talent in the Philippines!
Bringing full-time remote app developers from the Philippines on board can significantly bolster your business's technological capabilities.
Their robust coding skills lead to the creation of high-quality applications and programs.
They stay abreast with the latest in tech trends, keeping your business on the cutting edge.
They can enhance your IT framework, leading to improved system efficiency and performance.
Their technical proficiency ensures smooth operations, offering immense benefits to your business.
Building Your Offshore Team Of App Developers in the Philippines
Whether you need mobile or desktop app development, we can find you the right talent for your business needs. Here are Outsourced, we have experience hiring app experts that can fill key roles in your organization, including (but not limited to) the following:
Desktop Application Developer
Mobile Application Developer
Web Application Developer
Cloud Application Developer
Embedded Application Developer
Android Developer
iOS Developer
and many more!
Choose Outsourced To Hire Remote App Developers in the Philippines
At Outsourced, we streamline your hiring process, leveraging our vast network to connect you with top-tier app developers in the Philippines, ensuring quality and efficiency in your team.
At Outsourced, we adapt to your needs. You can start by hiring an individual app developer, then as your business expands, we can assist in scaling up to an app development team.
Ready to start your Philippines offshore staffing journey? Contact Outsourced today to learn how to get started on your journey to exceptional app development.