Hire An iOS Developer in the Philippines
iOS Development Outsourcing Services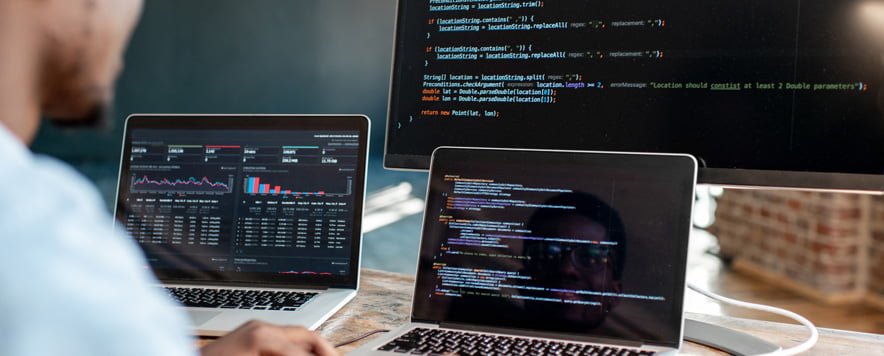 An iOS developer designs and builds applications for Apple devices. They work with iOS frameworks, ensure optimal performance, fix bugs, and maintain code integrity. Their goal is to create user-friendly apps that meet the needs of customers while aligning with a company's overall objectives.
Hiring an iOS developer is crucial for businesses aiming to reach Apple device users. They create engaging, user-friendly applications tailored to your company's needs, enhancing customer interaction and satisfaction.
---
Hire Dedicated Offshore iOS Developers and save up to 75% compared to hiring locally
Contact us to learn about our transparent fixed monthly rates with no long term contracts.
---
Skilled iOS developers also ensure your app runs smoothly, providing a positive user experience that can drive growth and increase your business's visibility in the competitive app market.
Why Outsource Swift Developers To The Philippines?
Outsourcing iOS developers offshore offers flexibility, adaptability, and efficiency. It allows businesses to scale up or down based on project needs. Offshore developers often operate in different time zones, providing round-the-clock productivity.
However, it is important to choose the right outsourcing provider who can help you access the top 1% of talent in the Philippines. This ensures you'll be working with an offshore staffing partner with high-quality output, innovative solutions, and a deep understanding of global market trends.
Benefits Of Hiring Offshore iOS Developers in the Philippines
Hiring full-time remote iOS developers in the Philippines offers distinct advantages, especially when it comes to enhancing tech capabilities and staying abreast of evolving trends.
Expertise in iOS Development: These developers possess specific skills in building applications for Apple's ecosystem, ensuring that your apps are optimized and tailored for iOS devices.

Up-to-date Technological Knowledge: Filipino developers are known for their proficiency in new technologies and coding practices, helping your business stay competitive.

Enhanced IT Framework: By integrating these professionals into your team, you can strengthen your IT infrastructure and ensure a smooth, efficient development process.

Quality Assurance: With their keen attention to detail, Filipino iOS developers can ensure a high standard of quality for your apps, minimizing bugs and maximizing user satisfaction.

Cultural Compatibility: The Philippines has a strong Western cultural influence, which often leads to smoother communication and better understanding of Western market preferences, positively impacting app design and user experience.
Remember, these benefits can only be fully realized by partnering with a reputable outsourcing provider that has access to the top 1% of talent in the country. We at Outsourced can help you in this regard.
Building a Remote iOS Developer Team in the Philippines with Outsourced
At Outsourced, we streamline the hiring process of top-quality iOS developers in the Philippines. We provide custom recruitment, full client support, and ensure you work with the country's top 1% talent, enhancing your app development and overall business growth.
At Outsourced, you can begin by hiring a single iOS developer and seamlessly expand to a full-fledged team as your business grows, ensuring a smooth transition and efficient scalability.
The offshore iOS developers at Outsourced are versatile and can fill various roles to meet your business needs:
iOS App Developer
iOS UI/UX Designer
Mobile App Tester
iOS Solution Architect
Senior iOS Developer
iOS Team Lead
iOS Project Manager
Mobile Game Developer
iOS Systems Engineer
iOS SDK Developer
Contact Outsourced Today
Ready to scale your team with skilled, dedicated remote iOS developers? Contact Outsourced today. Click here to learn how to get started on your offshore staffing success journey.