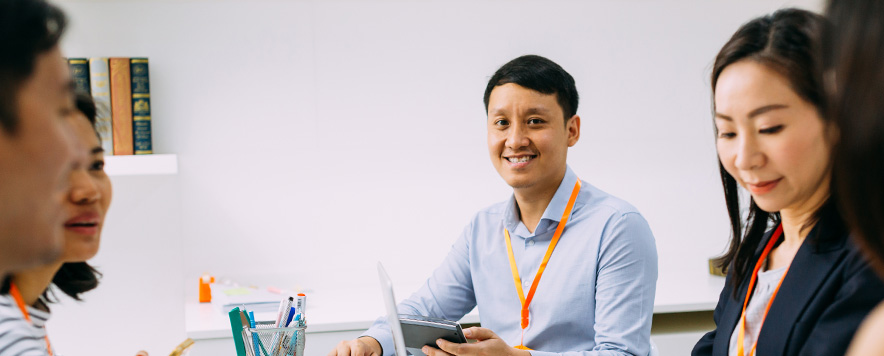 Do you want to optimise the e-Learning capabilities of your educational facility? Maybe you already provide online courses, but need to expand your department? Online learning is a rapidly developing industry that can help your facility grow and expand, significantly increasing your market share.
Outsourced provides a range of e-Learning Specialists, including Online Tutors, English Teachers and Teaching Assistants, as well as e-Learning Technologists and e-Learning Specialists. Our e-Learning Technologists and Specialists excel at developing innovative and interactive content across a range of subjects, operating with minimal supervision, but under your direction at all times.
---
---
At Outsourced, our offshore e-Learning Specialists work remotely in the Philippines performing a number of roles that include designing, delivering and assessing online content. To be successful in these roles and deliver content online, our Outsourced employees are not only experienced, qualified and highly talented, but they also possess excellent communication skills.
Offshore e-Learning Specialists integrate easily with your in-house team, ensuring that all content is correct, up to date and adheres to relevant industry regulations for each topic. These subjects include, but are not limited to, business, architecture, design and finance. We are always hiring new e-Learning Specialists at Outsourced, so we can provide the staff you need for your educational facility.
After all, hiring remote workers in the Philippines helps to reduce your facility's operational costs and free up in-house staff to refocus on your business's core activities.  
For more information on hiring offshore e-Learning Specialists for your institution, contact Outsourced today.
Hire Dedicated Offshore E-Learning Specialists and save up to 75% compared to hiring locally.
Happy client testimonials

Extension of our company
"We have been so happy with the people they have brought on board we have decide to expand the operation. This is testament to the flexibility and determination of the Outsourced team who have been more like an extension of our company rather than a 3rd party."

Incredibly helpful
"Outsourced have been an enormous support and very patient as we progress down the outsourcing path. They have integrated perfectly into our team and with all interactions with Outsourced staff we have found them to be incredibly helpful and accommodating."

High quality
"I want to stress that we have greatly appreciated the services of Outsourced, the service has been exemplary and the work high quality; the staff have been a pleasure to work with. We would like to retain an ongoing relationship with Outsourced."