Hire Backend Developers Offshore
Backend Development Outsourcing Philippines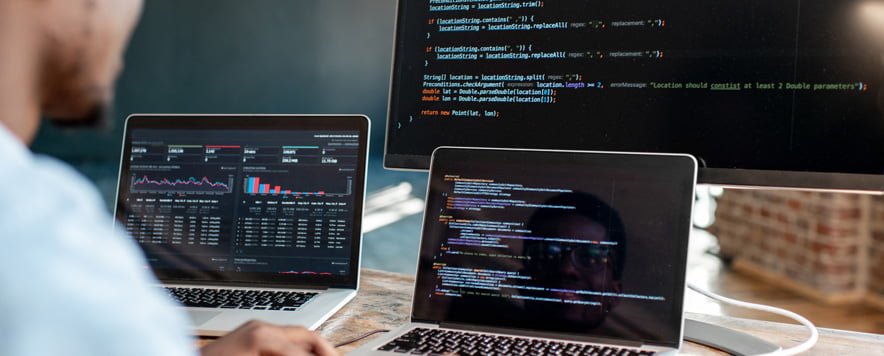 A Backend Developer designs and implements server-side logic, ensuring seamless data exchange between web applications and users. They handle APIs, databases, and system integration, while also collaborating with frontend developers to create a functional, cohesive software application. Their work is pivotal to a robust digital user experience.
Hiring a Backend Developer is crucial for businesses seeking to establish robust and interactive digital platforms. They ensure seamless user interaction by managing server-side data, creating APIs, and integrating systems.
---
Hire Dedicated Back End Developers and save up to 75% compared to hiring locally
Contact us to learn about our transparent fixed monthly rates with no long term contracts.
---
Backend development expertise enhances business productivity by optimizing data management, improving website load times, and ultimately contributing to a smooth and engaging user experience.
Why Outsource Backend Developers To The Philippines?
Outsourcing backend developers offshore (such as in the Philippines) presents an opportunity to tap into diverse technological ecosystems, fostering innovation and efficiency in software development. Crucial to this process is partnering with a reputable outsourcing provider, who ensures you're connected with highly-skilled professionals, the top 1% of talent, capable of delivering exceptional results.
Benefits Of Hiring Offshore Backend Developers in the Philippines
The Philippines, a rapidly growing tech hub, presents a wealth of advantages in hiring remote Backend Developers.
Filipino developers are renowned for their strong coding abilities, ensuring robust and efficient backend operations.
They are adept at building advanced functionalities into websites and software, enhancing user experience and business operations.
They stay abreast with the latest technological trends, ensuring your business remains competitive in an ever-evolving digital landscape.
Their expertise can streamline development processes, reducing time-to-market and improving product quality.
Given their exposure to diverse global projects, they bring innovative perspectives, fostering creative problem-solving in backend development.
Build a Remote Backend Developer Team in the Philippines with Outsourced
Outsourced can streamline your hiring process in the Philippines by sourcing, screening and testing premier backend developers. With our expertise, we ensure you get talented professionals capable of delivering innovative and efficient software solutions, thus enhancing your business' digital operations.
You can initially hire one backend developer. Then, based on your business growth and increasing needs, you have the flexibility to gradually expand to a complete team of developers.
Contact Outsourced Today
Contact Outsourced today to explore these possibilities for your business. Click here to learn how to get started with our skilled offshore backend developers, tailored to meet your specific needs. Let's innovate together!