Hire An Offshore MEAN Stack Developer
MEAN Stack Development Outsourcing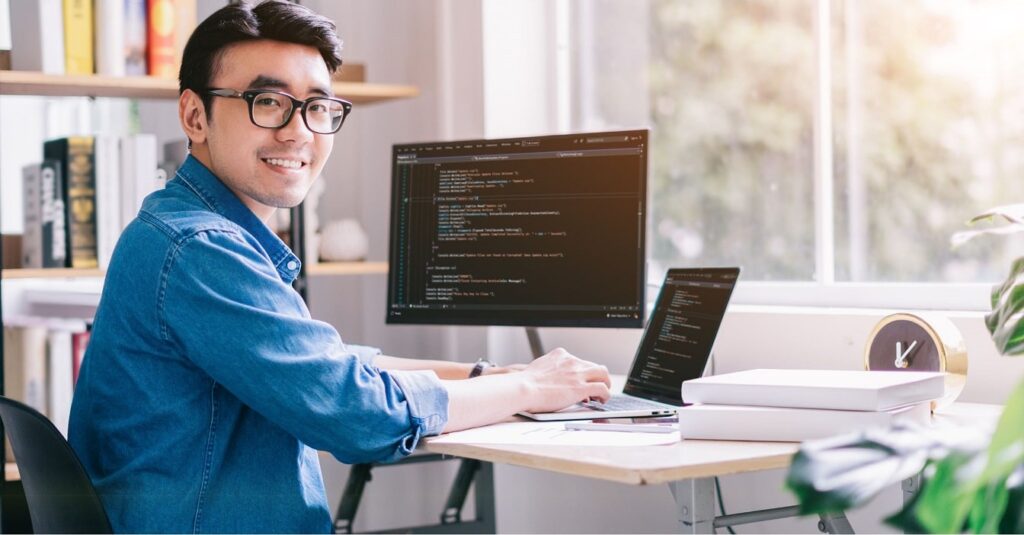 A MEAN Stack Developer specializes in developing applications using MEAN, an acronym which consists of four programming languages: MongoDB, Express.js, Angular.js, and Node.js. These professionals design and build web applications, manage data flow between server and user, ensure high performance, and troubleshoot and resolve issues to enhance end-user experience.
Hiring a MEAN Stack Developer is cost-effective and beneficial for businesses seeking to build robust web applications. They provide guidance throughout the design process, contributing to high-quality outcomes.
---
Hire Dedicated MEAN Stack Developers and save up to 75% compared to hiring locally
Contact us to learn about our transparent fixed monthly rates with no long term contracts.
---
The proficiency of MEAN Stack developers lies in multiple programming language skills, flexibility, and adherence to best security practices that ensure product reliability. Furthermore, their knowledge of JavaScript-based technologies fosters an efficient working environment.
Why Outsource MEAN Stack Development To The Philippines?
Outsourcing MEAN Stack development offshore (such as in the Philippines) offers flexibility and the chance to work on high-profile projects. It enhances task-oriented communication, accelerates market entry, and enables effective project scaling. Choosing an outsourcing provider with access to the top 1% of talent is vital to ensure superior quality and innovative solutions. A trusted partner like Outsourced can help you achieve that.
Benefits Of Hiring Offshore MEAN Stack Developers in the Philippines
Hiring full-time remote MEAN Stack Developers in the Philippines can revolutionize your tech-driven operations.
Coding Excellence: Filipino developers are known for their proficiency in coding, ensuring clean, efficient, and maintainable code.
Advanced Applications: Their expertise in MEAN Stack allows for the creation of cutting-edge applications, enhancing business operations and customer experience.
Technological Trends: They stay abreast of the latest tech trends, ensuring your applications remain relevant and competitive.
Robust Websites: Their skills enable the development of robust, responsive, and user-friendly websites, improving user engagement and satisfaction.
Build a Remote MEAN Stack Developer team in the Philippines with Outsourced
Outsourced is your go-to partner when it comes to hiring top-tier MEAN Stack developers in the Philippines. We streamline your offshore hiring process by connecting you directly with highly qualified and experienced professionals, saving you time and resources.
We understand that every business has unique needs. That's why we offer flexible remote staffing. You can start by hiring a single developer to kickstart your project. As your business grows and your needs become more complex, we can help you scale up to a full team of skilled MEAN Stack developers (if you so choose).
Our offshore MEAN Stack developers are versatile and can fill a range of roles, depending on your specific requirements. These roles include:
Full-stack Developer: Handles both front-end and back-end development, ensuring seamless functionality of your applications.
Backend Developer: Focuses on server-side logic, maintaining the database, and ensuring high performance and responsiveness to requests from the front-end.
Frontend Developer: Works on the user interface and user experience, making sure your applications are visually appealing and user-friendly.
Software Engineer: Designs, develops, and installs software solutions, contributing to the overall success of your tech projects.
Web Application Developer: Builds and maintains web applications, improving your online presence and customer engagement.
API Developer: Develops and manages the operations of an API platform, facilitating effective communication between different software components.
Database Architect: Designs, creates, deploys, and manages your company's databases, ensuring data integrity and security.
Contact Outsourced Today
Ready to hire dedicated full-time offshore staff in the Philippines with Outsourced? Contact us today to begin your journey. Click here to learn how to get started. We look forward to partnering with you!