Best Email Marketing Service Tips: How to Successfully Enhance your Email Newsletter Campaign

Email marketing is one of the most efficient and cost-effective ways to successfully market your product, brand and service to your niche. Therefore, companies are always on the lookout for the best email marketing service being offered – whether it caters to a B2B or B2C market. Not only does it allow you to further expand your goals and reach, it also leads to an increase in sales, engagement, subscribers and so forth.
Contrary to what some say about email marketing not being as effective compared to other digital mediums such as SEO, social media, PPC, content marketing, etc., is far from true. For your email marketing campaign to succeed, you need to delve into the basics. This means implementing "tried and tested" methods, and then incorporating an email marketing strategy tailored to your market.
How you personally craft your email is the key that will give you that "edge" over your competitors – as well as businesses who simply lack the time, interest or creativity to do so.
If you want your email to stand out, then you need to focus on what works for your audience and not be a "cookie-cutter" that simply follows every new and exciting email marketing trend out there.
Subject Lines that Speak to Your Prospects
To ensure that all your hard work in creating your email newsletter does not go to waste, create a subject line that easily captures the interest of your market. You do this by informing your recipients "what they can expect" when they read your email.
Mind you, this could be tricky based on recent studies. Due to the surge of mobile users, 21 characters (and below) is the magic number that gets your email open and read – and anything over 35 characters gets cut off in mobile devices.
Although only 2% uses personalized subject titles in their emails (e.g. subscriber's name) – this method generates a 50% higher "open rate" than emails that don't use personalization; in short, this may be something that you might want to think about.
Now some of the most commonly used email marketing tactics in getting emails read would be creating a "sense of urgency." Examples of these include offering a limited time to sign up; limited sale time and limited product quantities such as the one below:
What you want to focus on when crafting subject lines that gets your email read, is to find the fine line of being creative while taking into account some facts that can help generate a response from your prospect.
Look and Feel
When it comes to the design of your email, make sure it is user friendly. This means easy navigation and interaction with your brand – leading to a response and higher conversion rates.
Since we are now in the age of "Mobile-First" technology, having a responsive email is a must. Email marketing service and automation platforms, such as MailChimp, has incorporated responsive templates that work seamlessly with every device and screen size.
Below is a great example of a beautifully designed and a well-thought-of email that is compelling enough to get a response from its target market.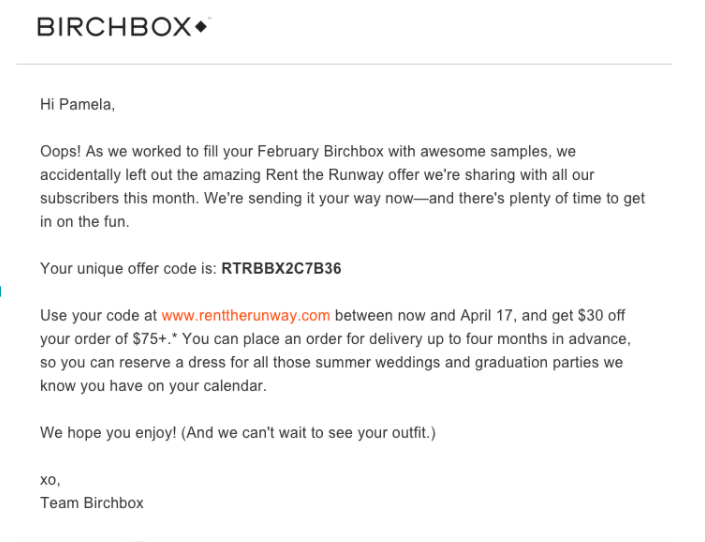 Why This Works:
· Brief and simple
· Short Paragraphs
· Uses images (other options: bullet points, bold titles, quotes, etc.)
· Social Sharing Buttons
· Contact Information
· CTA (call-to-action) – e.g. bold colors (site highlighted in orange); bold characters (code)
· Unsubscribe link
Clear, Concise and Compelling CTAs
The main role of CTAs (call-to-action) is to let your customers know what you want them to do.
This means that your message (the core benefit) should be communicated clearly, and is compelling enough for them to want to "click" on it.
In creating successful CTAs, some of things to consider would be its positioning and design. This is to ensure that it blends well with the overall theme while still managing to stand out. Also, producing the right words is essential in capturing the attention of your audience to make sure that they act upon it.
Some effective email marketing strategies that work well are "time sensitive offers" that produces urgency within the prospect – such as the one below:
There's Power in Personalization
A simple task that people neglect to do is address their recipient by their first name. You want your recipient to feel important – and what better way to start than by mentioning their first name right away.
You follow it up by stating "what's in it for them." This ensures you that you're able to hold them captivate for a longer time as you inform them what they need to do to receive your offer.
By creating a conversation instead of merely sending an "obvious automated message," ensures you of a higher conversion and click-through rate. Mind you, with all the data you've acquired, and with the utilization of your email software, you should have no problem segregating your list accordingly. This means you can automate emails and still make it seem very personal to your recipient.
Ronell Smith's email (which he used in one of his articles in Moz) is a perfect example, as it includes the following:
Compelling Subject Line
Addressing the recipient by his first name
Offering him something that is of interest to him
Conversing and showing sincere interest in wanting to give him something of value
CTA – offering a STAT demo at a time that is convenient for him
Captivating Content
So how do you create copies that convert? The best marketers will tell you that it's the story you tell that will hold your audience captive. As humans, we are driven by emotions and by making something relevant and applicable to our everyday life, you then win over your recipients. Most importantly, people will want to be associated with your brand – which means they would want to be your customers.
The types of "storytelling content" that you can create to ensure that you have the best email marketing campaigns include Case Studies, Origin Stories, Vision Stories and Why Stories, such as the one below.
Irresistible Offers
You can't go wrong by coming up with offers that are hard to refuse.
Apart from coming up with offers that generate a "sense of urgency," such as the ones we mentioned earlier, other types that you can use to entice your recipients include holiday specific rewards, sample sales and instant buying options.
The trick is to properly execute successful email campaigns. One way to do this is by making sure that the recipient knows that they can only avail of the rewards if they click the "product link" in your email and buy your product.
FYI – Rewards (free gifts) are incentives which means that your offer is already on sale and the rewards are just add-ons.
Integrate Social Media Sharing
Where can you find almost everyone nowadays – in social media right?! That's why it's such a powerful and influential online email marketing solution when it comes to finding ways and means to get your email to go viral.
It's the go-to-tool for many brands nowadays, that you just can't seem to escape its presence. You can see social media icons in business websites, as well as social share buttons in blogs – and of course in email newsletters. See sample below.
Enabling social media sharing allows your email to go beyond its reach (your subscribers) and find potential new recipients – who would most likely be within your niche since it was shared by one of your subscribers.
The top social media networks that you can incorporate in your email marketing campaign would be Facebook, Twitter, Instagram, Pinterest and Snapchat.
Just remember that the key behind the success of social media is interacting with your audience; therefore, you need to invest time to build relationships and make them want to visit, not just your site, but your social network accounts as well, since this is where all the magic happens.
Mobile Comes First
Almost everything online is done through mobile – and this includes emails. More than 70% of emails are now being read on mobile devices, and if your email isn't responsive, then you're losing a lot of potential leads big time!
Here are some email marketing tips to ensure a mobile-friendly email newsletter campaign:
Keep your email brief – this means be clear and precise when it comes to crafting your email messages.
CTA – make sure it's visible enough in mobile devices that the recipient can easily find and click it.
Make sure images load – this use to be an issue when it comes to mobile devices; such as images not loading or displaying properly. Nowadays, email services can now show you a mobile version before sending it out, so hopefully you won't be having that problem.
Send Emails at Opportune Times
Knowing the time and day when to send emails is crucial. By being mindful of this, the probability of it being read is higher. This is where your email tracking software (which is normally provided by a reputable email service) will come in handy.
With this tool, you can check when and what time your subscribers opened your email. Having this information allows you to know when would be the best time to send email campaigns to them.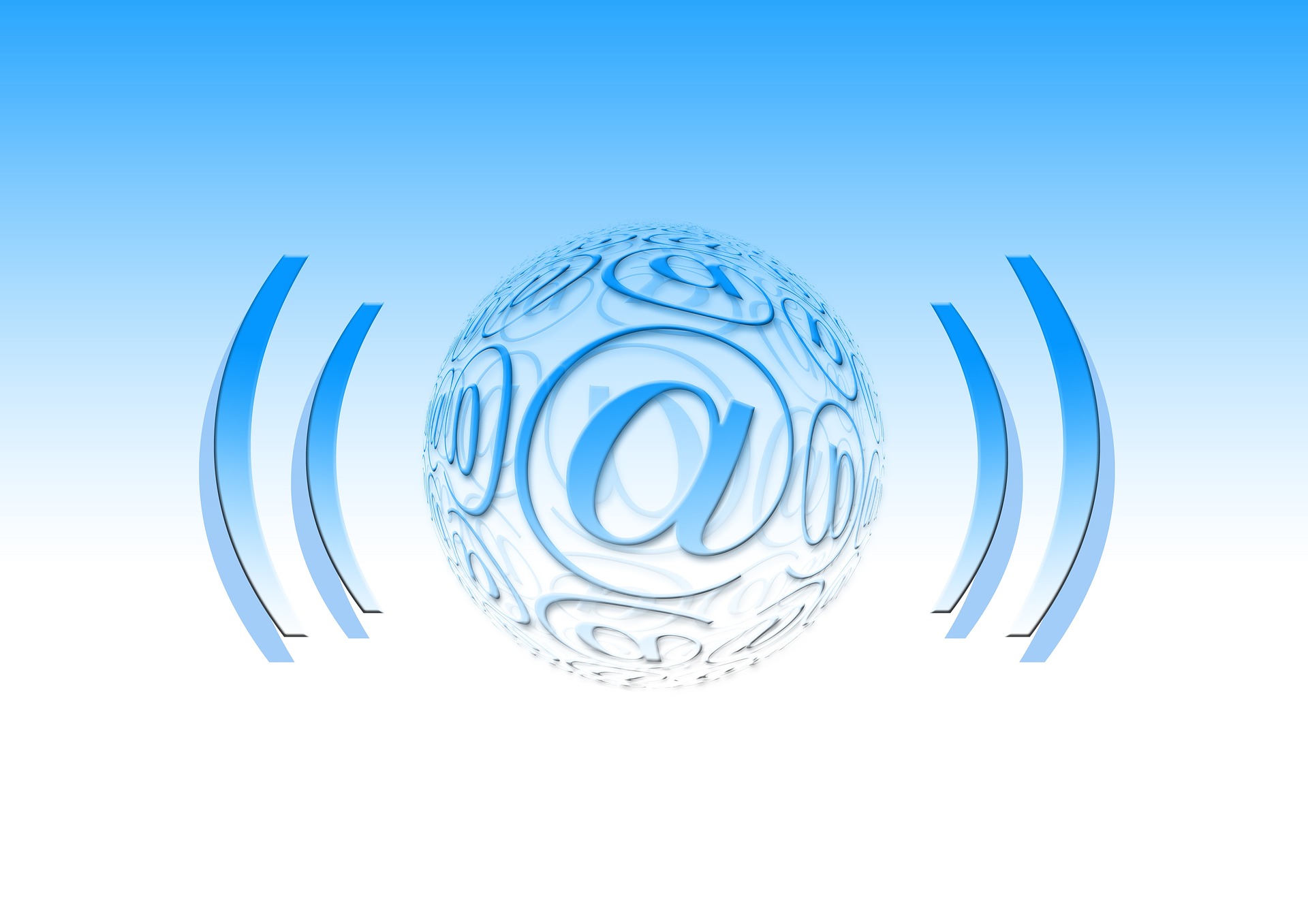 For example, B2B emails sent to business owners, entrepreneurs and workaholics have a higher click through rate during Saturdays – since this is the time wherein most of them read their emails.
Tuesdays, Wednesdays and Thursdays would be the best days to send emails to people who work nine-to-five. This also includes government and non-profit organizations who typically reads emails between 8am to 11am.
For "recreational content," weekends are your best bet.
Automated Follow-Ups
One of the best email marketing solutions would be developing an automatic follow-up email campaign, which has proven to increase response rates significantly. By making sure that your brand is the first thing on your recipient's mind (top-of-mind awareness), you not only get instant recall but a response as well.
You can schedule the time and day when the recipient can receive the follow-up emails to ensure that they get it at a time that is most favorable to them.
Analyze and Measure Your Campaign
By measuring the results of your email newsletter strategy, you can now analyze if you've met your goals; acknowledge the things that you need to improve on and so forth.
Generating reports for your email marketing efforts is easy. With email services, such as the ones being offered by MailChimp, you can now track your performance, monitor trends, provide subscriber activity reports, revenue reports, opens by location, bounce rates, unsubscribe rates, industry comparisons and so much more.
Segment Email List
To make sure that you are getting the most accurate results, it is always best to manage your email contacts right from the get-go. This means your email database must be updated and opted-in.
By segmenting your email list, it makes it easier to send out customized and successful email marketing campaigns to various target audiences. In doing so, you accomplish higher open rates and click through rates due to relevancy – resulting to a more favorable outcome.
So, there you have it. Once you've incorporated the basics and customized it for your audience, you should be able to develop a formula that is sure to get you more responses – resulting to a much higher conversion rate, and of course, revenue growth.
Just remember to always add value to every email that you send.
Now if you're looking to hire email marketing experts at affordable rates, feel free to outsource email marketing campaigns to an leading outsourcing company – contact Outsourced today and we'll create a winning email marketing campaign that will render you the results you want.